Discover more from NFT Protocol Newsletter
Newsletter and updates exclusively on all things about NFT Protocol.
Over 6,000 subscribers
Stakenomics @ NFT Protocol
Weekly update - week of 28 September 2020
The community has spoken. Four proposals were voted on this week including three about staking (hot topic!). The "Stakenomics" proposal by IrishLlama won with 13.6% of circulating supply. Developers are now working to execute the will of the people. We're targeting ~next weekend.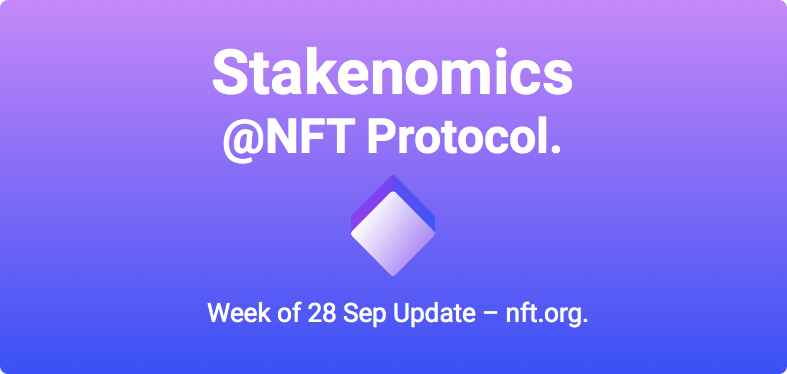 1.Governance & Staking
Governance is live and fully operational.  
In the email newsletter for the week of 17 September 2020, the developer team had put forward a staking plan in which up to 5 million $NFT could be staked by token holders in a 90-day staking contract with an implied 40.0% APY.
Three counter-proposals came in from the community a few days later:
Voting closed Friday 2nd October.  The results are as follows:
Stakenomics - received support of 13.6% of circulating supply (4.5M tokens)

NFT Rewards Ladder received 703K tokens in voting power; and

Increasing the Staking Limit received 2.3M tokens in voting power.

Accordingly, the Stakenomics contract (and web3 front-end) has been pushed into current development by the developer team.

Key features:

Staking cap - 7.5M per 90 day period

Min - 10K tokens to stake, max 1M to stake

Forfeit pool - any stakers that have earned tokens but withdrawn from the staking contract prior to 90 days will distribute part of their rewards to a forfeit pool which is distributed pro rata amongst the stakers who complete the 90-day term

Entry period - if the staking contract does not reach capacity, new entrants can enter up to 60 days into the contract launch.
The developer team had been waiting on the results of the governance voting before completing the staking contracts. The contracts were originally targeted for completion on October 1st - however, that was before the counterproposals were submitted.  It is now intended that the contracts will be completed before Monday October 12th - earlier if possible.
2.Collectible Drops
A governance proposal - "Collectible Drops for $NFT Holders" - was conceived by @matthijstrade and others.  It proposes to allow creators to earn $NFT tokens in return for dropping collectibles to certain holders of $NFT tokens.
https://snapshot.page/#/nft/proposal/QmctnBjAJmRJTRBwosuhpWDQ5At182DL2SakE2C7hmraRd
Voting closed on Friday 2nd October.  
It has been voted in by 14.2% of the circulating supply (4.71M).  
—
This is a powerful proposal that puts NFT Protocol head to head with marketplaces like Rarible in terms of attracting creators. It is also inclusive to the entire community in that it enables other NFT marketplaces to launch drops targeting our community.
—
This proposal has been added to the developer pipeline.  It is planned that this system will be fully autonomous in the future.  However, in the interest of getting the program up and running, it may be possible for this system to be executed manually, so as to not detract developer efforts from working on the DEX, or delay the program launch.  The contributor team is working on a plan for this now.
Key features:
Option A - Top 50 Holders - platforms or creators could issue drops to the top 50 holders. In return a platform or creator earns say 2,500 or 5,000 $NFT.

Option B - Stakers. Platforms or creators could issue drops to all holders who have locked a minimum of 10,000 tokens in an NFT Protocol 90-Day Staking Wallet, and is only delivered to those holders who stake for the full 90-days. In return a platform or creator earns say 2,500 or 5,000 $NFT.

Each drop must be approved by 24-hour community vote.
3.Decentralized Exchange 
A very brief update - the team is deep in planning and early development for the Decentralized NFT Exchange, and are working towards a delivery timeline of Dec 2020.  More information will be provided by end of this coming week.
Please visit us for more information.
Info and docs: www.nft.org
Social: www.twitter.com/nft_protocol
Community: t.me/nftprotocol
Governance: snapshot.page/#/nft
Uniswap: https://uniswap.info/token/0xcb8d1260f9c92a3a545d409466280ffdd7af7042